emNo Mill Fabric for my Pumpkin
In an earlier blog post I was talking about the different items you could put underneath your pumpkin as it grows. One of those items was Mill Fabric.
Due to the way the vine is growing this year and the tiny patch in general there was no way I could get the mill fabric underneath the pumpkin. I would have cause some sort of damage to the vine.
Luckily I guess the pumpkin is growing on top of paving stones. A solid surface indeed.
I put the sand under the pumpkin to help it's growth and hopefully it all works out.
Check your Setup
I checked my watering of the pumpkin and realised that little connector hoses for the micro irrigation had blown off.
The water was spraying into the air with most of it landing on the next door neighbours house. Not ideal.
It then dawned on my I had forgot to put the pressure reducer on that line. I forgot how I had it set up last year, so a trip to get more hose fittings was done.
Everything works well now, and I don't have to worry about wasting water or annoying my neighbours.
Staying ahead of Powder Mildew
Some day's it's super hot with no humidity, other days the humidity is so thick it feels like you could cut through it with a knife.
Humidity sucks.
It helps provide an ideal condition for powdery mildew to grow and spread.
Prevention is always better than a cure. This year I was onto it and I picked up some product to help prevent powdery mildew.
When powdery mildew hits, it covers your giant pumpkin plants leaves and causes the plant to slow down growth.  There were a lot of different products to help combat powdery mildew and other fungus related problems.
I decided to go with Yates Natures Way Fungus Spray.
This product seems a but safer than some others, and has 2 ingredients which sounded better than 1 to me. It comes in a powder form you mix up.
For me I like dealing with powders. I'm less likely to spill them. Just a personal preference.
I also got some Thrive Flower and Fruit, this has a higher level of potassium which is good for fruit growth on anything you are growing. I also picked up something called Garden Time Seafeed. It was a cheap seaweed based product.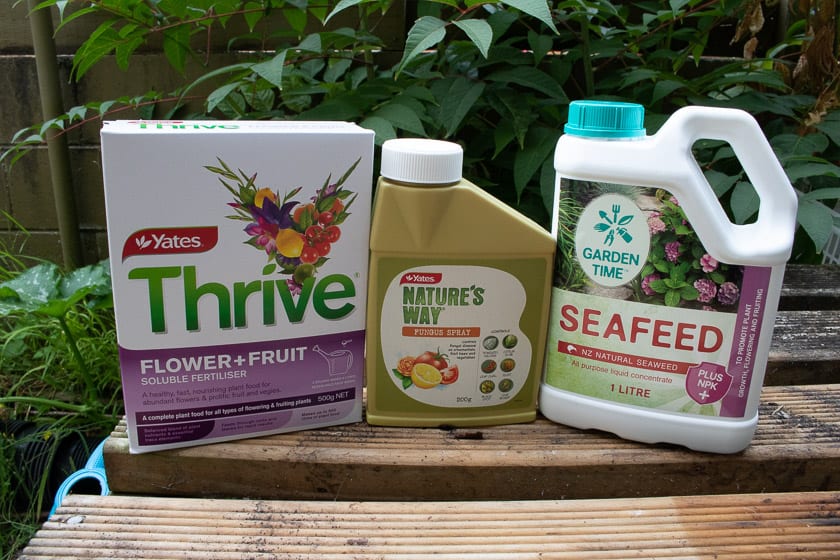 How's Things Going for You?
Is this season on track for a new personal best? Let me know in the comments below.