People can't always grow giant pumpkins due to size restraints or they don't want the pumpkin plant taking over the whole garden but there are many reasons to grow a giant pumpkin.
However for those people out there that can't, I always recommend they should have a go at miniature pumpkins.  But sometimes even that gets met with the argument of I still don't have much room for them either.  So I am trying something different this year:
Growing Miniature Pumpkins in a Pot
Something I haven't done before and it is more of a trial then anything, but I thought I would put some miniature pumpkin seeds into a rather large pot and grow then in that.  The roots hopefully won't get too root bound and it will produce some pumpkins.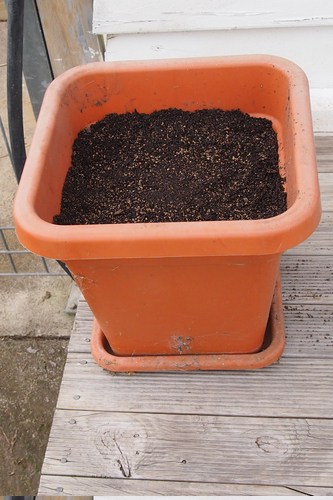 There isn't too much to it, I just got a rather large pot we had laying around and filled it with some dirt and have put the seeds in, making sure to give them some water every now and then, I will find a semi shaded spot for them outside.
I'll let you know the progress as the season goes on.