Hello there, I wasn't sure if I was going to update this week as I had been roped into sorting out the quiz night questions etc for my daughters school, and while it seems a really simple thing to do, it sure is time consuming making sure everything is correct, but I managed to finish that off yesterday letting me do pumpkin related stuff today.
Roped into helping out
Living in an older house there is always something to do as the flatmate does it up, and I get roped into all the big jobs, at the moment repainting the swimming pool is at the top of the list, so having a break from the quiz night I helped put the second coat of paint on the pool.
Seedlings popping up everywhere
Giant sunflowers are making a great appearance as well as some of the miniatures, some of the other miniatures sure are taking their sweet time to appear so hopefully they are all good and haven't rotted out.
Miniatures in the pot are going well
These are growing great at the moment, I am going to leave all the plants in there and see how they go.  Later on in the season I will give them a watering of some kelp/fish based product to help give them some nutrients they might be missing out on just being in the pot.
Giant pumpkins are growing well
I have one on the window sill inside growing and for the life of me I'm not sure what seed I used for it, it was something random as this plant was planted really early just to demonstrate the jiffy peet pellet it is growing in.  It's doing really well and seem to be putting out it's next set of leaves in a sort of random way, I will be planting that outside in the next couple of days.
The other plants I am growing are getting there, without the help of grow lamps and being in the shed they are doing quite well, I am still ahead of where I was last year, and they will be going down outside in about a week.  I am surprised at a couple of seedlings I have seen people put outside well before that third leaf had formed, hopefully they are all good in knowing which way the vine will grow.
These three seedlings are all from the same pumpkin, one is going elsewhere, the other is a back up, can never have too many, also have a bunch of back up seeds if needed as well.
Trying to remember a lot of stuff
I've already forgotten a bunch of stuff this year already, I forgot to germinate my seeds before planting which looking back at last years efforts is something I forgot then as well, luckily all but one seed has grown.  I also forgot about the depth at which I planted my seeds, I think I put them too far beneath the surface.
And……….. I forgot about these miniature pumpkins as well, they will be put out today or tomorrow with the rest.
Shelter for pumpkins has been built
A couple of months ago I started building quite an elaborate shelter to cover the seedlings when they go outside, due to budget constraints I put that project on hold and put it in the shed, I will show you that finished project next season.
But for this season I have knocked up one of these: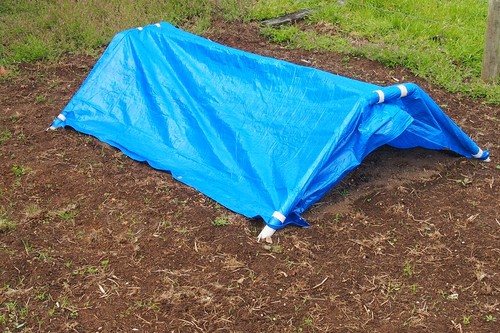 I came into some free 40mm waste water pipe and thought this was something I could use.  The total cost was $20 which was for the fittings and the blue tarp, it also has some tent pegs which I already had pinning it to the ground.
The main benefits is to help protect the seedling from wind damage, help warm the earth and protect from any cold snaps over night.  It is mainly a proof of concept design as I wanted to see how it would stand up, and I used cut bits of pipe as the clips to hold the tarp on.  I'm thinking of making another 2, and I will look into the greenhouse covering.
The covering comes in a 1.8m wide piece, hence the width of the shelter being 1.8m.  It is easy to move around, pull apart and make adjustments, I will let you know in future posts how I think it went.
That was the week for me, I'm hopefully going to be doing more weeding of the patch later on today, hope you have had a great labour weekend.