With the internet such a big part of our lives, and the ability to connect to it via different devices, books may have taken a back seat to where you get information from.
But before the internet was so ubiquitous, books were the go to for many people.
Books still hold a special place, you can't beat looking through a book. Giant pumpkin growers have had some great books over the years, not many, but when there is only so much incremental advances in something like growing giant pumpkins, that's OK.
In this post I cover what I think are the top 5 giant pumpkin books that have come out over the years. Let me know what you think, or if there is a book I have missed.
Top 5 Best Books for Giant Pumpkin Growers
The Perfect Pumpkin
Author:
Gail Damerow
Year first published:
1997
Description:
"The big orange pumpkin is no longer just for Halloween! Gail Damerow shows you how to cultivate more than 95 varieties of pumpkin, and provides recipes for pumpkin pies, muffins, and even pumpkin beer. You'll also learn how to use pumpkins in a variety of craft projects, from carving unique jack-o'-lanterns to creating pumpkin-scented creams and soaps. With tips on growing giant pumpkins, preserving your harvest through the winter, and much more, The Perfect Pumpkin will delight pumpkin lovers of all sensibilities."
Availability:
Available on Kindle, new and used. On Amazon or brand new on Book Depository
Pages:
224
My Notes:
I quite like this book, and I think if you were to buy one book for someone that likes pumpkins in general this would be a good option. It covers lots of overall information about pumpkins, advice about growing giants and gives you a lot of different ways to use pumpkin with recipes in the back half of the book.
There are no color photos in this book, with most image black and white diagrams. The information is all based around the US growing season which is to be expected. All round a good book about pumpkins.
How to Grow World Class Giant Pumpkins I, II, and III
Author:
Don Langevin
Year first published:
Book I – 1993, Book II – 1998, Book III – 2003
Description:
From book III
The reader will find much in this third book in a trilogy of information on growing giant pumpkins. How-to-Grow World Class Giant Pumpkins, III presents the newest information on cultural methods, who's who, and records. New ideas about plant size and pruning strategies throw a whole new light on the grower with only a small area to devote to giant pumpkins. New discoveries involving the use of considerably more calcium in feeding programs, a steadily growing consensus on the use of nitrogen, the beginnings of a real effort at applying genetic theory in pollination strategies, how-to select the best seed, and the controversial subject of genetic manipulation, all required an airing-out here.
The explosion in the number of growers gathering information via the internet, either through website information, or through open forums with other growers via message boards, has become a major accelerator in the learning curve of all growers. Seed auctions, message boards, and a site devoted entirely to maintaining a database of pumpkin genetic backgrounds, all contribute to a shortening of the time it takes to succeed in this sport. I would be remiss if I did not spend the time to write about these valuable resources, and convey any new discoveries to you.
If you want to grow a world record giant pumpkin, you will find much in this book to to help you.
Availability:
All available as second hand, for some reason book number II is a lot easier to get your hands on. They range in price and it pays to look around. Amazon Page Book I and Book III are available on Kindle.
Pages:
Book I: 118 Book II: 160 Book III: 192
My Notes:
I've grouped these first 3 books in the series together. They build upon each other and are quite similar.
One reason you may want to get these books is for the great photos they have, showing off giant pumpkin growing from years past. With the right seed these books will get you up to speed fast in the giant pumpkin techniques required to get the best pumpkin you can.
How to Grow World Class Giant Pumpkins the All-Organic Way
Author:
Don Langevin
Year first published:
2009
Description:
Don Langevin has written four books on giant pumpkin that have changed the landscape of competitive growing. Since his first book in 1993, the world record has been broken thirteen time, and hi second book in 1998 set off a 10 year span that saw the world record broken every year.
How-to-Grow World Class Giant Pumpkin – The All-Organic Way offers an approach to growing that will change competitive vegetable growing all over the world. This book covers everything from soil preparation to seed starting, from feeding and watering to choosing the right fruit, from pest control to measuring for estimated weight, from competing to all the things that giant pumpkin growers do with their pumpkins – all written with the reverence to the Soil Food web. Nothing is left out.
Availability:
Looking online there doesn't seem to be many copies of this book around compared to the rest on this list, and the ones you do find are very expensive. Not available on Kindle. Maybe it's because it is the newest one in the series and people are still holding onto them. If you find one going cheap, grab it. Here's a link to the Amazon page and BookFinder results page.
Pages:
208
My Notes:
This book is of course part of the How to Grow World Class Giant Pumpkins Series of books by Don Langevin. And it is the latest one in the series, but I've kept this out of the previous 3 mentioned above as it takes a slightly different approach and talks about the benefits of doing things organically.
Like the other 3 books this is well laid out with glossy color photos throughout. It gives you a lot of information without overwhelming you. It pays particular attention to how important soil is. This is a great addition to any giant pumpkin growers bookshelf.
Backyard Giants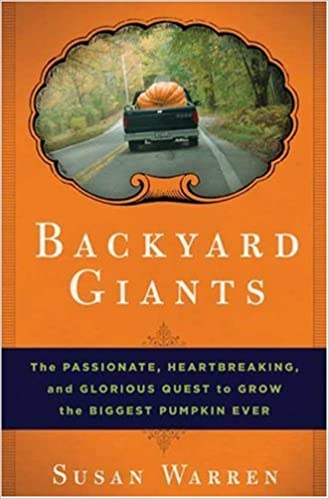 Author:
Susan Warren
Year first published:
2007
Description:
Every year, the race to grow the biggest pumpkin in the world draws a rowdy crowd of obsessive gardeners to county fairs and weigh-offs across the country. The competition is furious; there's sabotage and treachery and the heartbreak of root rot, and many a weigh-off ends in tears. This year more than just the grand prize is at stake. The Holy Grail is within reach: the world's first fifteen-hundred pound pumpkin. And Ron and Dick Wallace will stop at nothing to get it.

Backyard Giants follows a tumultuous season in the life of a close-knit tribe of competitors as they chase down the ultimate pumpkin prize. In the grueling and gut-wrenching quest for truly colossal fruit, vacations are postponed, marriages are strained, and savings accounts are emptied. Backyards are converted into leafy laboratories of biogenetics and toxic chemicals―to say nothing of pumpkin sex. Riding shotgun with Ron and his father Dick, Wall Street Journal editor Susan Warren brings to life a winning and unforgettable crew of pumpkin lunatics: the newbie who shocked everyone by growing the big one last year; the pro-bono slime scientist; the groundhog assassin; and the safety trainer who risked electrocuting himself to save his patch.

Funny, sharp, and engaging, Backyard Giants is a romp through a charming corner of American life, as quirky and enchanting as the big pumpkins themselves.
Availability:
Lot available 2nd hand on Amazon
Pages:
256
My Notes:
I've seen this book around for such a long time, but never really realised what it was about. I finally paid attention and got a copy of it. It covers Ron and Dick Wallace's growing season back in 2006. It covers a lot of what top giant pumpkin growers go through.
It's a snapshot of a period of time, and it covers it really well. It is one of the biggest pumpkin books out there, so if your not much of a reader it might take a while. I think this would be a great book to be converted to audio book.
The Pumpkin King
Author:
Al Kingsbury
Year first published:
1997
Description:
"Once upon a time, giant pumpkins existed only in story books or in the tall tales of legends. Then along came Howard Dill. This Nova Scotia farmer inherited his father's passion for growing big pumpkins, and bred his own Dill's Atlantic Giant seeds which have produced world-record pumpkins weighing more than 1,000 pounds.

Laced with pictures collected over two decades, The Pumpkin King traces Dill's exploits from the quiet of his own pumpkin patch to the glory of international competition. It also reveals his astute development of a thriving seed business.

Along the way, relevant facts are given about this increasingly popular product of autumn. The book includes tips on how to grow the big ones, statistics on world-record weights, and takes readers through the excitement of a local pumpkin weighoff day."
Availability:
Available 2nd hand from multiple places like Amazon or BookFinder
Pages:
108
My Notes:
This is a great book, because it covers so much of the very early history of the giant pumpkin journey. The man behind the seed we all grow now. From how Howard Dill got started, the formation of the first clubs and more.
For someone like me who is so far away from the home of giant pumpkins, this book is such a great read about how it all started.
In Conclusion
Books are a good resource. Looking at past information as a base of knowledge to me is a good idea. If you are interested in these books I would go grab a copy as soon as you can before they get harder to acquire.
Books like these are reference books, books you refer back to when you are growing through the season. As most of them are out of print now, second hand is the only way to go.
One thing I do like about 2nd hand books is you never know if there will be growers notes on the pages of the book. Finding highlighted or underlined parts of a book make them unique. Who was the grower that used to own this book, what did they achieve. Where are they now, all questions that remain unanswered, but good to know someone got something useful out of this book.
But is there room for more books about giant pumpkin growing? Maybe not so much about the technique of growing, but I'd like to see more books about the journey people have been on to grow their giant pumpkin.
Side Note
While I have linked to different sites with the books, these are not affiliate links in case you were wondering.